Across the beneficiary districts, over 300 female fishmongers have been trained on best fish handling practices, technology adoption, and occupational safety and health (OSH) by the Power to the Fishers project. The training has equipped fishmongers with the know-how in maintaining good hygiene when handling fish and making the most out of the energy-efficient 'Ahotor' oven. Furthermore, the training educated recipients on the relevance of packaging and branding of their smoked fish.
The need to process fish under hygienic conditions and present them in attractive packages was emphasized. The women were enlightened on ways to package smoked fish in boxes, small baskets, zip locks, disposable plates and clink film with well-designed labels displaying names/ business names and contacts.
This exercise was to help fish processors in the target communities to gradually adopt the use of improved, environmentally friendly, and cost-efficient fuels and fish processing technologies. Ahotor ovens constructed under the project were used for the demonstration.
At one of such training sessions in the Anlo Beach community in the Shama District, Judith Ahiaku, a participant remarked: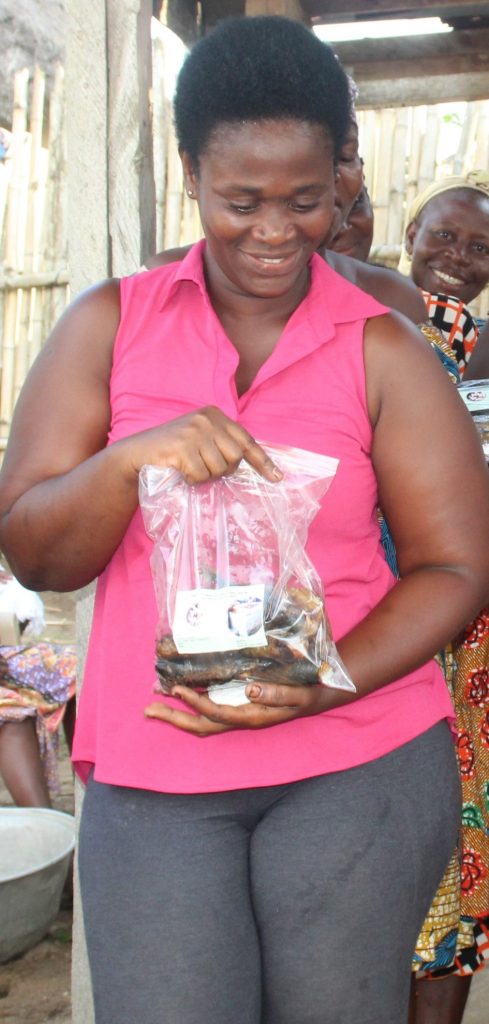 "I was looking for a smart way to improve my fish handling and fish smoking since the smoke from the traditional oven caused me so many health issues. Thanks to the training I received from the Power to the Fishers project, I am now well informed on how to properly handle the fish I source from the shore. I have learned that it is not expedient to wash fish with the seawater, and also that I do not have to dry fish on the floor before smoking since this affects its wholesomeness. More importantly, I now understand the need for packaging of my smoked products and the immense importance of the "Ahotor" oven, as I previously thought it cooked slowly. I have however concluded that its benefit, with respect to my health and quality of fish, is far worth its use. I can now smoke fish without worrying about the smoke causing me eye pain or inducing cough. With this training, I am well empowered to smoke fish using the "Ahotor" oven and do business without worrying about my health".