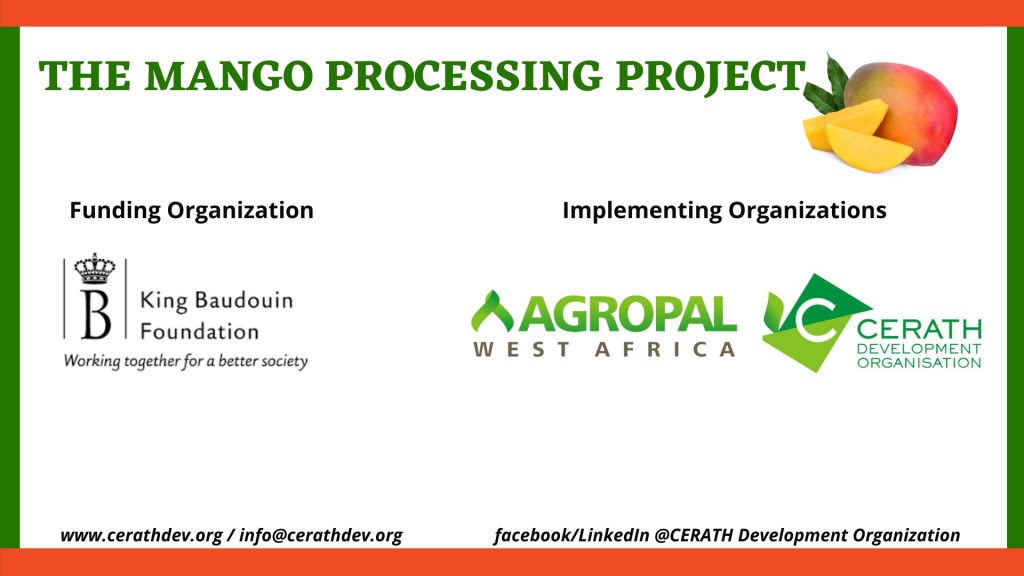 ABOUT THE PROJECT
Ghana is at the crossroads of improving the resiliency and sustainability of nontraditional export commodities such as mango. Ghana has advanced its exports of fresh produce such as mango to Europe and other destination markets. The Government of Ghana is promoting mango as a major nontraditional fruit and has positioned its value chain to be export-led.
Despite the huge volumes of mango production within the Shai Osudoku, Yilo Krobo, and Lower Manya Krobo districts in the Eastern Region of Ghana, there are still no major processing facilities to add value to fresh mangoes. Mango production generally is still underdeveloped with yields relatively low. Due to this, the production of smallholder mango farmers remains low, soil fertility declines, purchasing power stagnates and inadequate post-harvest handling leads to a significant portion of mango produce going to waste.
Agropal West Africa in partnership with CERATH Development Organization has set their ambitions on improving productivity and the socio-economic conditions of smallholder mango farmers and processing capacity in the 3 mango-producing districts.
The Mango Processing project is a 2 years project partly funded by the King Baudouin Foundation. This project aims at scaling up the Ghanaian mango landscape from the current consumption and sale of fresh fruits to the export of dried fruits.
PROJECT OBJECTIVES
Build the capacities of 1200 mango farmers on good agricultural practices.
Provide target mango farmers with business development support to build their capacity for the export market.