The Power to the Fishers (PTF) project, a European Union (EU) funded fisheries management intervention, has sensitized and enrolled fisherfolks on the National Health Insurance Scheme (NHIS).
The 4-year fisheries project, being implemented by CERATH Development Organization (CDO), is targeted at enhancing the socio-economic livelihoods of fishing communities in selected districts of coastal Ghana – specifically Effutu Municipal, Awutu Senya, Gomoa West, Ekumfi, and Shama districts. One key component of the project is to enhance knowledge of and access to social protection services in the target project landscape.
The project's baseline study, which was carried out in October 2019, identified health insurance (among others) to be a social protection service of high interest to fisherfolk due to the occupational health hazards associated with their trade. The baseline study further revealed that subscriptions onto health insurance services had been low despite the interest shown. This occurrence was attributed to lack of knowledge, inadequate information, and bad experiences.
The PTF project, in collaboration with the district offices of the National Health Insurance Authority (NHIA), organized sensitization exercises on the NHIS across the 5 project districts. The coastal communities were taken through the workings and benefits of the scheme, nuances in service delivery, subscription modalities, and demonstrations on the mobile renewal process. As part of the sensitization exercise, NHIA carried out instant registration of new members onto the scheme and renewal of expired membership cards.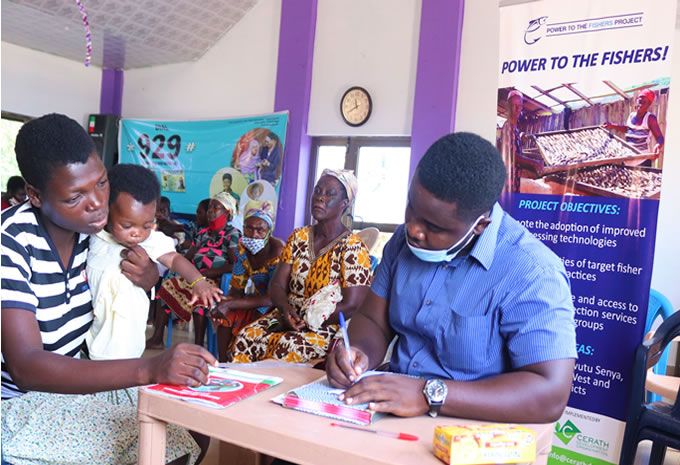 The engagements across 25 beneficiary communities saw a total number of 1,046 fisherfolk sensitized and 658 new registration and membership renewals done. It was interesting to note that several community folks upon sighting the registration process, came by to register or renew their membership.
A beneficiary in the Bentsir community of the Shama District, who participated in the sensitization program and after receiving a better understanding of the NHIS, had this to say:
"I have battled with my health for over 3 years now and haven't been able to gain access to free health care. I always had misconceptions about the variance in the service delivery, but thanks to this sensitization program, I now have a better understanding of the scheme and can access quality health care with my new membership card. I am grateful to the European Union for supporting the Power to the Fishers project to provide us with this sensitization and registration exercise. I certainly would not hold back in registering my children as well".