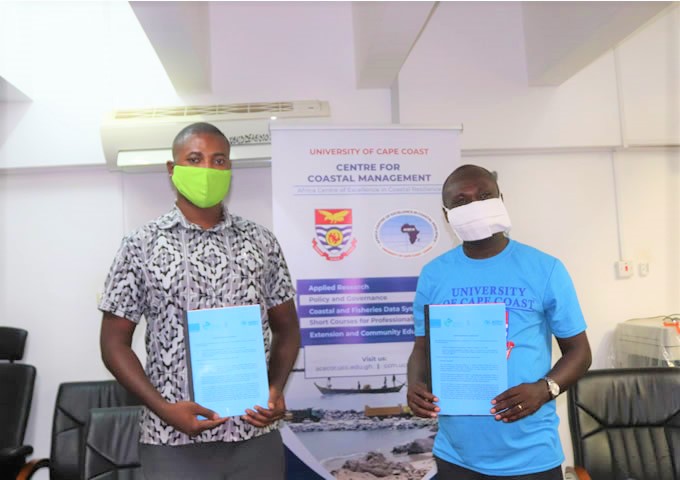 A Memorandum of Agreement (MoA) has been signed between CERATH Development Organization (CDO) and the Centre for Coastal Management (CCM) of the University of Cape Coast. The signing ceremony was held on 21st December 2020 at the premises of CCM at Cape Coast. The MoA, which was signed under the Power to the Fishers (PTF) project being implemented by CDO, formally establishes the partnership to enroll graduate students as student researchers. Present for the signing were the PTF project manager (who signed on behalf of the Director of CDO) and the Director of CCM, as well as representatives from both organizations.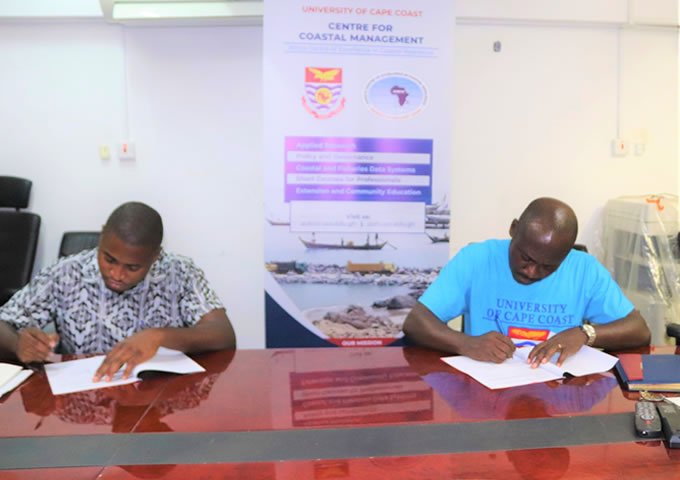 Under the partnership, five Master's students of CCM will receive funding from the PTF project towards research in project thematic areas including fish post-harvest practices and technology adoption, climate resilience, and environmental protection in Ghana's coastal areas. The partnership headlines the PTF project's efforts to contribute to and enhance access to knowledge on fisheries.
The PTF project is focused on enhancing the socio-economic livelihood of fishing communities in selected districts of the coastal savannah zones of Ghana. The main intervention areas include stakeholder engagements for advocacy, promotion of efficient fish smoking technologies, capacity building and community education on climate change, and enhancing access to social protection services. The project is being implemented in the Awutu Senya, Effutu, Gomoa West, Ekumfi, and Shama districts. The project is funded by the European Union under the Civil Society Organization in Research and Innovation for Sustainable Development (CSO-RISE) programme.