Waste picking has been a source of livelihood for many poor people across the globe since antiquity. However, modern trends in waste picking took root during industrialization in the 19th century. Waste picking has become a popular occupation in Tamale because of the tons of waste produced every day. Waste picking provides work to the unskilled, underage, and poor. The combination of large amounts of waste and abject poverty creates the ideal condition for children to be pushed into work. Working as a waste picker comes at a cost, especially if you are a child as it stops children from attending school and deprives children of their health. It also leaves such children more vulnerable to abuse.
A recent study by CERATH Development Organisation (CDO) in the Northern region of Ghana revealed that about 60% of waste pickers at the Tamale landfill site were children in the age range of 4-16 years. Out of this, about 60% of the children were boys, while 40% were girls.
Sadat, a 7-year-old from "Gbalai" in the Sagnarigu Municipality, wears ill-fitted boots slashed down to ankle-length, with clothes that look unwashed for days. According to Sadat "I come here daily to pick sellable waste for scrap dealers and plastic waste buyers who give me money," he says. "I have been doing this work for two years or maybe more." Sadat's work as a waste picker pays him GHC2 (less than $0.50) a day. The number of school-going aged children engaged in waste picking in Ghana is on the rise, this is particularly prevalent in rural and peri-urban slum communities.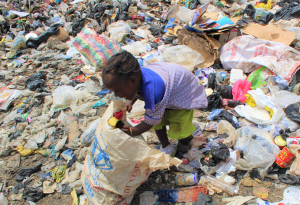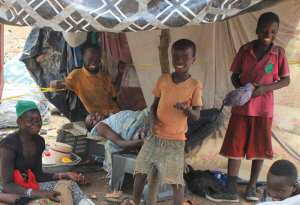 According to health experts, "children anywhere in the world are more vulnerable to any poison, contaminant or toxin because of their rapidly developing organs". Children at the Tamale landfill site may not be an exception since they are exposed to contaminants and toxic particles daily. Not only are they exposed to critical health conditions, but children are also often cheated and exposed to different forms of abuse (physical and emotional). Their hopes of ever earning higher education are dashed at the landfill site since their survival is dependent on waste picked.