CERATH Development Organization (CDO) participated in the Green Ghana Day nationwide campaign yesterday, 10th June 2022. CDO collaborated with some of its projects' beneficiaries within Accra and Winneba in the nationwide tree planting exercise. CDO fully endorses the "Green Ghana Tree Planting Campaign" as it ties in with its objective to promote environmental protection and climate change mitigation.
The theme for this year's exercise is "Mobilizing for a Greener Future". The Green Ghana initiative seeks to create enhanced national awareness on the necessity for collective action toward the restoration of degraded landscapes in the country. It also aspires to inculcate in youths the value of planting and nurturing trees and their associated benefits. This year's tree planting target is set at 20 million trees. In the build-up to the nationwide tree planting exercise, the Forestry Commission and His Excellency the President of Ghana, Nana Akuffo Addo, entreated each person, whether a Ghanaian or foreigner to plant at least one tree.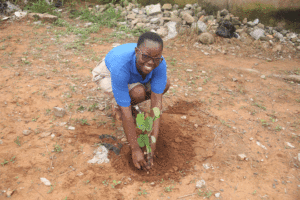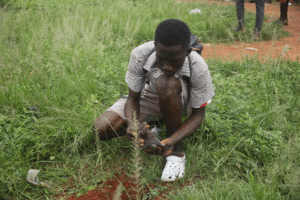 CDO, through its Power to the Fishers (PTF) project and the Coconut Waste Project (COWAP), joined various stakeholders in the national tree planting exercise. The PTF team collaborated with the Effutu District Assembly and Forestry Department (Winneba Division) in the ''greening'' of designated areas in Winneba. Specifically, the PTF team carried out the tree planting exercise at the Muni-Pomadze Ramsar site and Winneba Lagoon. This exercise was in conjunction with officials of Effutu District Assembly, Forestry Department (Winneba Division) & Social Welfare (Winneba Division), the Paramount Chief, and community representatives of Effutu Municipality. The trees planted include white mangroves, red mangroves, and coconut. The planting of these types of seedlings is geared toward restoring lost mangroves along the banks of water bodies.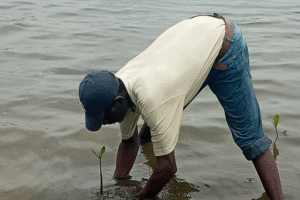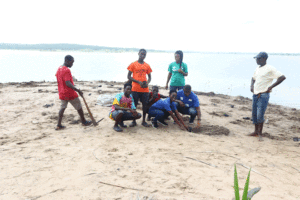 Additionally, the COWAP team collaborated with the La-Nkwantanang Madina Municipal Assembly (LaNMMA) in "greening" various parts of the municipality. The COWAP team also galvanized the support of its coconut vendors to assist in this exercise. Together, the officials from LaNMMA, the COWAP team, and the coconut vendors visited various primary schools within the municipality to plant tree seedlings with the primary school students and their teachers. The team also visited the Presec Staff basic school, Madian Cluster (Circuit No.1), and the Wass Experimental school. The students and teachers were happy to partake in the tree planting exercise. The trees planted included royal palm, militia, tree of life, and flamboyant amongst others. Officials from LaNMMA entreated the students to take proper care of the plants, as plants collectively ensure a better environment.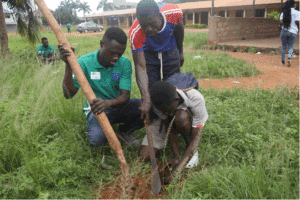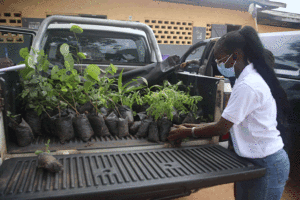 CDO is committed to combating climate change and promoting afforestation policies and programs that will help increase Ghana's forest cover, a significant natural resource for the country's socio-economic development.