Recognizing the challenges faced by local food production is a crucial first step in dealing with the intricate problem of post-production losses affecting both smallholder farmers and farmer cooperatives throughout Ghana. Undoubtedly, one of the key solutions for addressing these losses is the establishment of strong market connections between producers and processors.
CERATH Development Organization, as part of the Subcontract Matching Scheme funded by the United Nations Industrial Development Organization (UNIDO) under the West Africa Competitiveness Program (WACOMP), provided technical assistance (TA) to specific stakeholders in the mango and pineapple value chains. The primary beneficiaries of this project included AGROPAL West Africa Limited, a prominent fruit processing company, as well as mango and pineapple farmers/cooperatives, aggregators, and transporters operating in specific districts within the Greater Accra, Eastern, and Central regions of Ghana. A central aspect of the Subcontract Matching Scheme aimed to enhance market connections between AGROPAL West Africa Limited and the targeted farmer cooperatives, bridging the gap between producers and processors to facilitate a more efficient and mutually beneficial exchange within the agricultural value chain.
In recent months, CDO has been actively working with mango and pineapple farmers, associations, and cooperatives. Notably, they have engaged with the Qualipine Union, a significant consortium of pineapple cooperatives in the Eastern region of Ghana. The engagement began by providing training to association leaders and members, covering various topics like good agronomic practices, pesticide application methods, and leadership skills. The aim of this training was to empower farmers and cooperatives with the knowledge and skills needed to operate effectively and compete in both local and international markets. Ultimately, the goal is to enhance their sustainability and success in the agricultural sector.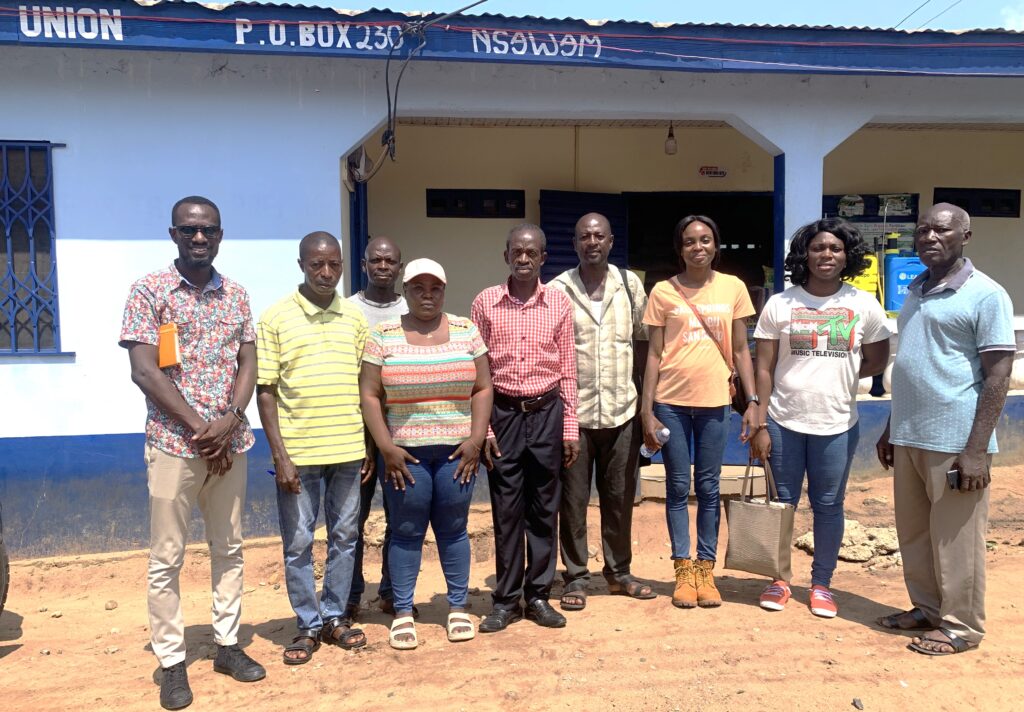 To achieve the goal of improving market access, CDO successfully facilitated a strategic partnership between the Qualipine Union and AGROPAL West Africa Limited. This partnership has not only been established but has also produced remarkable results. Thanks to this collaboration, AGROPAL has been able to purchase more than 90 tons of top-quality pineapples from the Qualipine Union. This increased volume of pineapples sourced from the Qualipine Union not only benefits local farmers by boosting their income but also ensures a steady supply of fresh and high-quality pineapples for AGROPAL West Africa Limited's customers. In essence, it is a win-win situation that strengthens the market position of both parties involved.
In summary, the strategic partnership orchestrated by CDO between the Qualipine Union and AGROPAL West Africa Limited serves as a concrete example of CDO's dedication to promoting sustainable development within the agricultural sector. This collaboration has not only resulted in the procurement of more than 90 tons of produce from the Qualipine Union, but it has also planted the seeds for ongoing prosperity and cooperation between these two essential enterprises. This partnership demonstrates the power of bringing together different actors in the agricultural value chain to create a more efficient and mutually beneficial ecosystem. It not only benefits the local farmers of the Qualipine Union by increasing their sales and income but also strengthens AGROPAL West Africa Limited's access to a consistent supply of high-quality pineapples. This collaborative success story reflects the positive impact that well-designed and executed partnerships can have on sustainable agricultural growth and economic development. It sets a promising precedent for continued cooperation and progress in the agricultural sector.