The Ministry of Fisheries and Aquaculture Development (MoFAD) represented by Ms. Matilda Quist, Director of Marine Fisheries has launched the Power to the Fishers Project, a sustainable fisheries management intervention, last Thursday 12th December 2019 at Erata Hotel, Accra. CERATH Development Organization (CDO) is implementing the project, with funding from the European Union (EU) under the Civil Society Organizations in Research and Innovation for Sustainable Development Program (CSO-RISE).
A number of relevant stakeholders including MOFAD, Fisheries Commission, representatives of the EU Delegation to Ghana, Parliamentary Select Committee on Food, Agriculture & Cocoa Affairs, Ghana Standards Authority, Food and Drugs Authority, and members of academia, graced the occasion. Also in attendance were representatives of the fisher folks associations and a number of civil society organizations (CSOs) operating within the fishery sector of Ghana.

The 45 month-project seeks to enhance the socio-economic livelihoods of coastal communities in some selected coastal districts. These are Effutu Municipal, Awutu Senya, Ekumfi, Gomoa West, and Shama Districts. The project will increase the knowledge level of target fishing communities on the best fish processing practices. It will also complement ongoing efforts aimed at enhancing the adoption of improved fish smoking technologies. Additionally, it will empower the target communities to adopt appropriate social protection services.
At the launch, the regional director of CDO, Mr. Paa Kofi Osei-Owusu explained that the Power to the Fishers project would enhance the livelihoods of the target beneficiaries, and complement existing fishery projects funded by the EU and the United States Agency for International Development (USAID).  Mr. Christopher Ackon, a representative of the EU, remarked that this project is one evidence of the EU's commitment to the fishery sector of Ghana and West Africa as a whole. The Vice-Chairman of the Parliamentary Select Committee on Food, Agriculture and Cocoa Affairs; Hon. Abraham Odoom, in his speech, reiterated the need to engage communities consistently, in the implementation of the project in order to maximize impact on the beneficiaries.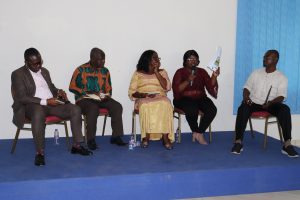 During the launch, a presentation was made on a baseline survey conducted by the project team. The baseline pointed out a number of challenges and prospects in the fishery sector, and the need for collective action to boost the sector's fortunes. The launch ended with a panel discussion, where a team of experts shared several viewpoints aimed at enhancing the livelihoods of fisher folks.